The excitement of going to a new country is addicting. There is just something special about breathing that air, walking on that land, seeing the people… it is no wonder that so many people point to wanderlust as their reason for traveling abroad. The need consumes you even as you enjoy the memories of your time away.
But even the most seasoned backpacker or worldly traveler needs some kind of safety net when finding a new place, or visiting an old one. From finding the right hostel to looking up the best kept regional secrets, or just finding a good restaurant that serves vegetarian options, you need a guide.
The Internet is full of helpful websites that teach you all about cities from across the globe. But some are indispensable for any travel, no matter the experience.

All of the convenience and information of Wikipedia, but purely made for travel. This is a user-generated website with articles of places all over the world, from the largest cities to the tiniest villages.
There is information on the region, the people and the culture, as well as extensive guides on hospitality and sights. There are some fascinating bits of trivia, as well, such as that Weifang, China is the Kite Capital of the world, and Mauna Kea of Hawaii is the tallest mountain in existence.
If you have a interest in real in-depth travel analysis, this is the site for you. The largest commercial website for travelers, it has full guides with reviews on local businesses and services. You can also find little known places that have been found on the site users own travelers, such as underground clubs and mom & pop shops.
There is a work and study tab on each location to tell you what it is like to live there, which is a nice touch. It isn't just for travel, but lifestyle topics associated with moving to a new place.
Most people know about The Travel Channel and have watched at least a few of their programs. Anthony Bourdain's No Reservations and Man VS Food are both examples of some of the more popular shows on the network. But you might not know that they are known for more than just entertainment.
The website has a number of guides, top 10 lists and tip articles for travelers. They even have rundowns of entire trips that tell some of the best attractions and businesses in the area, and places you should avoid.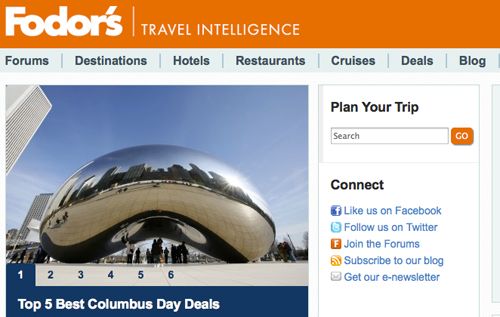 Fodor's offers a wide range of articles, tips and trip ideas for you to look through, with a special emphasis on popular destinations and what the region is best known for. They also have a collection of deals and links, as well as tools and resources to help you get started.
This is a great guide for travel beginners, but not the best if you want to tread the unbeaten path.
Sometimes there is no one better to turn to for travel advice than a journalist. They have been thrown from country to country, often going into areas other tourists never tread, checking out the local haunts and finding what is good and what is not. Also, they usually have to do this on next to no money as their employer works the trip in on a tight budget.
This website features guides written by journalists who have been all over the world, with printable copies in different languages. The tags make them easy to navigate for something specific.
Conclusion
Sometimes it is just easier to give up to someone else's experience and let it enrich our own. If you are planning to travel, be sure to check out these excellent guides that will make the trip run so much more smoothly than if you just winged it. Each is free, extensive and helpful.
Do you have a free international travel guide that you are especially fond of? Let us know in the comments below which are your favorites and why.